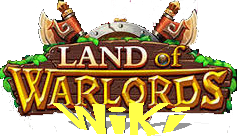 Welcome to the Land of Warlords Wiki!
This wikia is about the mobile app, Land of Warlords. Here, members will help and respect others. Welcome!

Guidelines :
Be respectful to all other players and their ideas.
Contribute to this wiki. If you see any false information, give an administrator a heads up!
If you have any questions, feel free to ask!
Administration
Send any of the administrator(s) a message if you have and comment, question, or concern.
The current administrators are as follows :
***HELP WANTED*** If you would like to become an administrator, post a message to UltimateAstal's wall.
Helpful Links
Here are some links that you may find helpful :
Hero Table of Contents Click here to view a list of all the heroes in-game and access quick links to their pages
City Click here to access any features accessible from the City
Current Wonderful Events Click here to view the current Wonderful Events
Special Events
The first 2015 updates are coming. New heroes, new functions will be added. No doubt, you are playing the most interesting game in the world.
Updates are as follows:
1.Kingdom ceremony event will be added;
2.Tycoon's Love event will be added;
3.Husker(Epic Hero, Aokexiliya(Epic Hero), and Harbingery(Demigod) will be added in the Hero Shop. Wont show up in the Inn and Black Market before;
4.Four new Hero Achievements will be added;
5.Two new trials of starpath will be added;
6.War soul combine function will be added.
Update date is Jan.20 or Jan.21, so please stay tuned.
Community content is available under
CC-BY-SA
unless otherwise noted.